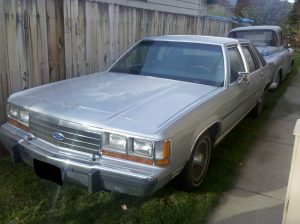 The car was generously donated by my Mother. It is a 1990 Ford LTD Crown Victoria. Current plans include:
Paint the car black
Include flames (probably sticker/vinyl type because I cannot draw)
Slap the number "72" on it
Include all of my sponsors on the car
Now, you may point out that this is by far a "race car", but I plan on putting it on the track during special events throughout the season called "Run What You Brung". In this event, people can take out street cars that they own and run a few laps around the track. Of course, I want to drive a real race car, but baby steps. 🙂
Future plans include getting myself into a "Modified" class race car and really tearing up the dirt like only a geek can. Photo's from the most recent Mountain Modified Challenge are located in this gallery.