The car is a 2002 Chevy Cavalier Z24 with a 5-speed manual transmission.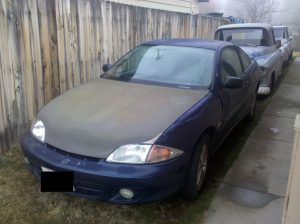 Current plans include:
Now, you may point out that this is by far a "race car", but I plan on putting it on the dirt track during special events throughout the season called "Run What U Brung". In this event, people can take out street cars that they own and run a few laps around the track. Of course, I want to drive a real race car, but baby steps.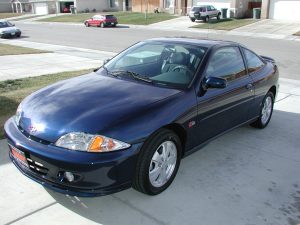 Believe it or not, I actually purchased the car brand new in January 2002. I did very little to take care of it. The main thing that happened was as a result of very hard water stains all down one side because of the sprinkler system where I lived at the time. I decided to take it to a detail shop and buff out the stains. It looked great for a couple of months, but the clear coat wore out fast and ended up peeling in the desert sun.
The hood was replaced several years ago due to an accident that was entirely my fault and broke the passenger headlight and bent up the hood severely.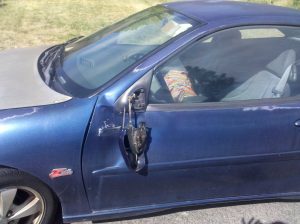 The driver door was damaged in 2010 while it was parked out in the street. A visitor to one of my neighbors backed into it and did $2000 worth of damage. No hard feelings, really, as the insurance paid me and she was extremely apologetic for what happened. I tried to not let it show that I did not care and needed the money more then I needed a straight bodied grocery get'r.
I also backed into several things myself, one of those times was just a couple months after purchase. That one cost me several hundred bucks to fix. Oddly enough, it was cheaper to get a new rear bumper then to fix the existing one.
Needless to say, things come full circle and if the car still looked like it did in 2002, it would not be on the dirt track in 2012. 🙂 It still runs great (but not much to look at), so I will give it all that I have and see what I can do to make a few laps count.